In honour of Breast Cancer Awareness Month, North York Medical Center is doing a 4-part series on actionable things that everyone can do to take care of themselves and those around them.
According to Health Canada, breast cancer is the 2nd most common cancer in Canada and the #1 cancer affecting women across the country. This is the first installment of North York Medical Center's 4-part series on Breast Cancer.
Increase your (breast) awareness
Superstar athlete Serena Williams sang it best: Touch Yourself.
We recommend that all women – in their 20s, 30s, 40s, and up, as well as those who get regular screenings – should get to know the shape, texture, and size of their breasts.
I could just be a couple times a month, before or after you jump in the shower. Spend a few minutes to check for any of the following symptoms: swelling, redness, lumps, bumps, unusual pain, liquid or discharge from the nipples.
Keep in mind that breasts come in all different sizes and shapes. Some breasts are normally lumpy, for example. The purpose of breast awareness is to notice something that is unusual for you.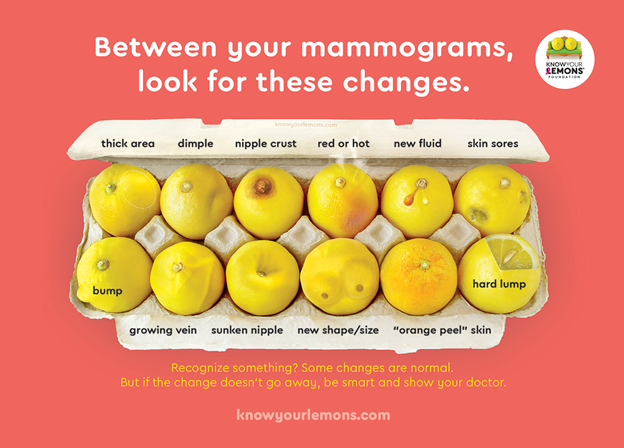 Photo from knowyourlemons.com
If you find any of these symptoms, don't panic – call your family doctor and book an appointment for expert advice.
Our family physicians at North York Medical Center are currently accepting new patients and are conducting in-person appointments during COVID.
For further instructions on how to self-exam, visit breastcancer.org for a step-by-step and visual guide.
In our second post, we'll be tackling an official guideline <blog 2> from the Canadian Task Force on Preventive Health Care… it might not be what you think!
Follow us on LinkedIn, Instagram (@northyorkmedical) , and Facebook (@NorthYorkMedical) for updates.